By Chad Horner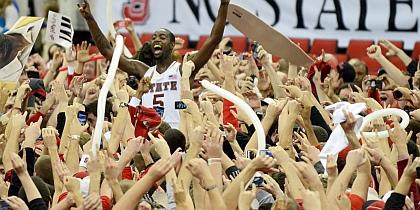 The Duke Blue Devils, the number one team in the land for the past month, were finally knocked off their perch Saturday afternoon by the North Carolina State Wolfpack team that was favored to win the ACC in the preseason.
In fact, if you had examined Duke's schedule in the preseason and tried to find which game would be their toughest, it likely would have been this one.  However, after plowing through five potentially elite teams – Louisville, Ohio State, Minnesota, Kentucky, and VCU – in a two week span earlier this season, while NC State was run off of the floor by Oklahoma State in a twenty point loss, their positions in the rankings flipped.  Duke came into this game as a modest favorite, despite the absence of Ryan Kelly, who they lost to injury earlier this week, and the fact that this was their first true road game of the season.  But there was one sign that the Pack was not an ideal matchup for the Blue Devils.
The biggest knock against NC State's game so far this year has been their inability to prevent their opponents from grabbing offensive rebounds.  They rank 261st in the country in opponents Offensive Rebound percentage.  However, Duke only ranks 237th in that category on offense.  If Duke couldn't take advantage of their biggest weakness, the Pack looked to have a good shot at winning.
So what happened in the game?  Well, in the first half, Duke dominated the offensive glass.  They had ten offensive rebounds.  NC State had nine defensive rebounds.  If Duke missed a shot, they got a second chance over 50% of the time!  That's an insane percentage.  Amile Jefferson and Josh Hairston, each of whom have a higher offensive rebound rate than Kelly, contributed 5 offensive rebounds to the total.  Jefferson was particularly strong in the first half, with 8 points on 4 of 5 shooting, and 2 blocks.  Interesting fact about Jefferson: his college decision last year came down to Duke and NC State.  The Wolfpack fans were certainly letting him have it all game.
Despite the poor rebounding, State still led 41-39 going into the half.  Their defense played well, holding Duke to 16 of 36 from the field, and a few of those were easy tip-ins and dunks off of offensive rebounds by the Blue Devils.
In the second half, the script changed.  Jefferson picked up two quick fouls within the first five minutes, and then rode the bench with four until coming back into the game ten minutes later and promptly picking up his fifth and final foul.  Duke only picked up two offensive rebounds in the second half, although they both led to 3's by Seth Curry.  The game was never out of reach for the Blue Devils, although they did not hold a lead at any point after the halfway point.
Richard Howell was absolutely dominant on the boards, with 14 rebounds in the second half.  C.J. Leslie took over with 12 points in the final ten minutes.  Lorenzo Brown had a double double with 13 assists.  Scott Wood only took 3 shots, but still made all of them and finished with 14 points.  They played like the team they were supposed to be all season.  If they can keep it up, and fix their rebounding issue, then perhaps the Wolfpack can finally take home that ACC Championship that has eluded them since 1987.